Complete Tutorial Training for
Adobe After Effects Pro® 6.5
Note: This is Training for the older After Effects Pro (CS), not After Effects CS6 or CS6.5
"I Received the 6 CD set of tutorial for After Effects 6.0 and 6.5 and they are GREAT. I had a bad experience trying to save money and bought for 39.95 from one of your competitors but it was a grave mistake, it was not a true tutorial and was not worth even a dollar. Your product is thorough and professional and it is clear as it explains every step and phase. I love your product and I will make sure in the future to look into your site before I venture anywhere else." - Boaz G.
List Price $58.95
Our Price $29.57
Available on 1 DVD
Covers every topic that you need to create exciting web sites using the power of Adobe After Effects 6.5

Adobe After Effects is the ultimate tool for Motion Graphics and Visual Effects.

If you can only get one After Effects training product, this is the one you need. This is our New After Effects training set. This is the most in-depth, complete video training available today in a single product. We have taken this training further than any of our previous After Effects titles. Over 16 hours of actual video training.

This training is for the Windows platform and will play on all current versions of Windows.

Boost your Adobe After Effects skills to full speed quickly and easily with this latest course clearly demonstrated by top training guru, George Peirson.

Learn how to create professional level animations and video sequences. Our computer based training shows you how! Our training covers version 6 and both 6.5 standard and 6.5 Pro versions.

Learn new techniques. Enhance your skills. Apply your training today.

This outstanding set covers not just the basics, but provides practical information, clear-cut demonstrations, and project applications you can use immediately.

---

Lessons are laid out in a logical, easy-to-follow format, guiding you step-by-step through the tools and processes you need to become an After Effects Guru. Beginning with an overview of the principles involved, each lesson moves on to a step-by-step demonstration of the tool or process, followed by a hands-on, practical application project that lets you experience how to use this new information in your everyday work.

By using this training, you will learn how to use After Effects 6.5, discover how to maximize your learning, and truly master this powerful program to become an After Effects Guru.

Click here to view a sample lesson
This video has been compressed for streaming over the web.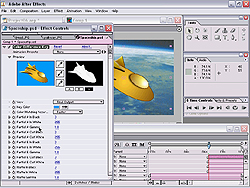 Using Mattes
Guru level training in the New Adobe After Effects® 6.5, the latest version of Adobe's blockbuster animation and video design software.

You will learn both the theories behind this powerful program and how to apply your new expertise in the real world… right away.
Placing Lights
You do not need to have After Effects 6.5 installed on your computer to view this training. Although you will need your own copy of After Effects installed to do the exercises.

Explore the world's most popular video effects program. Our in-depth, easy-to-follow courses lead you through common tasks using a clear, step-by-step approach. HTG Training takes the guesswork out of mastering this software.
Working with Cameras
Learn exactly what you need to know with our interactive multimedia courseware. Our training teaches fundamental and advanced techniques and lets you apply what you have learned today.

New After Effects 6.5, Adobe's best selling video and animation design software. We show you everything you need to know to use the full power of this amazing program. This set is packed with almost 14 hours of solid training in After Effects. That's like taking a three day After Effects Seminar from Mr. Peirson. Each set comes shrink wrapped in its own DVD-style retail case.

Plus we are including all Materials with examples from all the projects and additional files, that let you work along with the tutorials and try out all of our demonstrations on your own machine using the same files we use in the demos.

Buy this software today and start learning the power of Adobe After Effects.
Beginning Adobe After Effects 6.5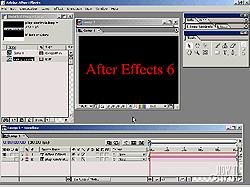 The complete contents list is reproduced below.
Part 1

Introduction
Introduction
After Effects Tour
What's New in Version 6.0
What's New in Version 6.5
Using Preferences
Setting Preferences

Creating a Project
New Project
Using the Project Window
New Composition
Timeline Window
Composition Window
Importing Elements
Rendering

Menus
File Menu
Edit Menu
Composition Menu
Layer Menu
Effect Menu
Animation Menu
View Menu
Window Menu
Help Menu

Part 2

Using the Timeline Window
Using Layers
Duration Bars
Markers
Using Keyframes
Keyframe Navigator
Special Keyframe Techniques
Switches
Modes
Timeline Options Menu

Using the Composition Window
View Settings
Snapshots
Using Camera Views
Composition Options Menu

Using Layers
Text
Solid
Light
Camera
Null Object
Parent / Child Layers
Adjustment Layers
Intermediate Adobe After Effects 6.5
Part 3

Palettes
The Tools Palette
The Info Palette
The Audio Palette
Time Controls Palette
Effects Palette
Text Palettes
Paint Palette
Brush Tips Palette

Special Palettes
Motion Sketch
Smart Mask Interpolation
The Smoother
The Wiggler
Align & Distribute
Tracker Controls

Advanced Layers
Using Masks
Using Switches
Using Transform
About 3D Layers
Blending Modes
Modifying Text Layers

Part 4

Effect Meuu 1
Practice Animation
Effect Controls
3D Channel
Adjust
Audio
Blur & Sharpen
Channel
Distort

Effect Menu 2
Expression Controls
Image Control
Keying
Matte Tools
Noise
Paint
Perspective

Effect Menu 3
Render
Simulation
Stylize
Text
Time
Transition
Video
Advanced Adobe After Effects 6.5
Part 5

Animation Menu
Keyframe Interpolation
Keyframe Velocity
Keyframe Assistant
Animate Text
Add Text Selector
Add Expression
Track Motion
Stabilize Motion
Track This Property

3D
About 3D
3D Layers
3D Views
Using Cameras
Using Lights
Auto-Orientatoin
Point of Interest
Previewing 3D
Rendering 3D
Importing Camera Files

Part 6

Putting it all together

Project 1 - Animated Text Logo
New Project
Dark Clouds
Comp 2 Setup
Card Dance
Animate Text
Bulge Effect
Comp 3 Setup
Moon Effect
Light Effect
Final Comp & Render

Project 2 - Transitions
New Project
Mask / Position Change
Lens Flare
3D Fly Away
Double Twirl
Sucked In
Melt Away
Shatter
Radial Wipe
Final Comp & Render
List Price $58.95
Our Price $29.87